About Whitney
Whitney Lea Sage, a native of suburban Detroit, Michigan, currently lives and works in Naperville, Illinois. Whitney attended Miami University in Oxford, Ohio and graduated cum laude in 2008 with Bachelor's degrees in Art Education and Painting. Whitney earned her M.F.A. in Studio Art from the Sam Fox School of Visual Art at Washington University in St. Louis in May, 2011. In addition to her professional art practice, Whitney serves as a tenure-track Assistant Professor of Drawing and Painting at North Central College.
About My Work
As a native of the suburban Detroit area, the rich cultural heritage of the midwestern city and its relevance the "American way of life" are things that I've always found intriguing and influential to both my artwork as well as my own identity. Midwestern cities like Detroit are places of increasing cultural relevance with parallels to larger American struggles, big industry and suburban migration leaving behind empty storefronts, ghostly architectural skeletons and scarred empty plots of land. Throughout my career I have continually depicted the city as subject matter, not only as a personal crusade for a place I love, but also to create an open dialog about tough histories and the lenses through which communities view each other.
My work, through an expanding range of mediums, aims to address the history and current struggles of rust belt communities and communicate related emotional crises of identity, loss, and homesickness. Being brought up in the suburbs, my work is constantly walking the line of insider and outsider, the result of a larger troubled relationship between city and suburb due to issues of race, politics, money and mistrust. As a suburbanite, I find myself constantly addressing my own relationship with the city despite physical and experiential distance. As such, themes I gravitate toward address this distance through its side effect, cultural misunderstanding and ambivalence, often reflected in the tropes of media coverage addressing urban areas. The imagery employed in my work often focuses on architecture as language for discussing urban history, its current challenges and the hotly contested visions for its future. In attempting to connect viewers of the work to the issues surrounding the city on a personal level, my work often has allusions to the domestic interior of the home as a metaphor for the psychological interior, the root of emotional longing and nostalgia for place. While my practice is rooted in a deeply personal experience growing up in a rust belt city, the work seeks to appeal to many through universal notions of home, loss, hope and the protective impulse that we share for the people and places we love.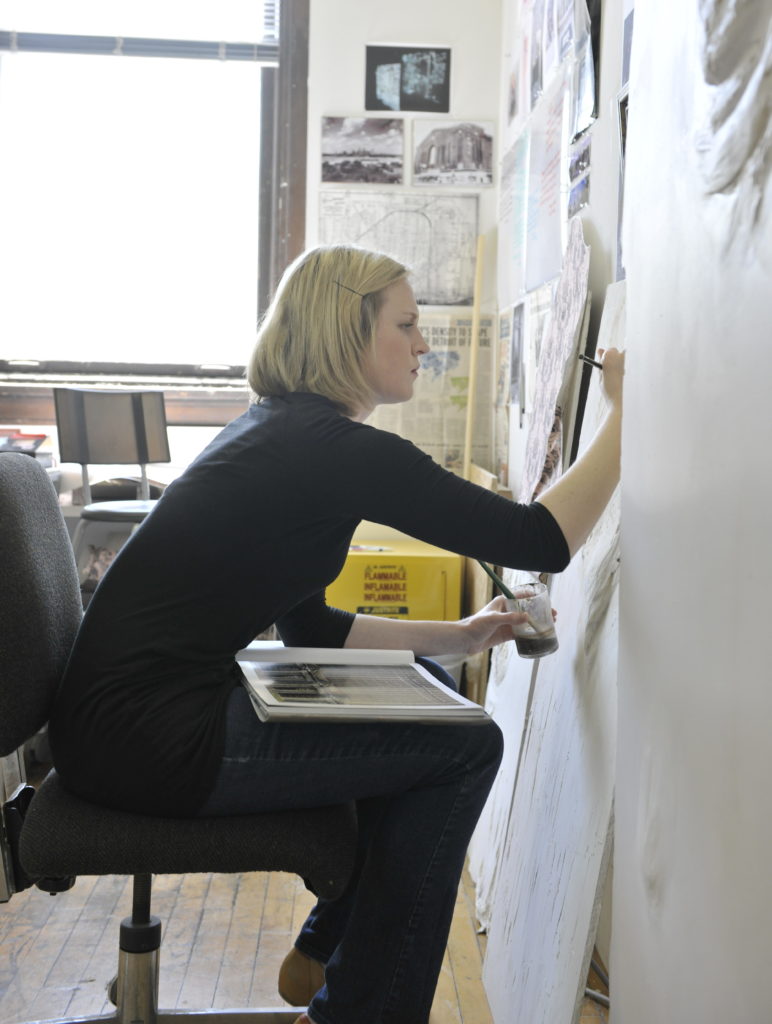 Save
Save