Studios Midwest Residency in Galesburg, IL
March 15, 2020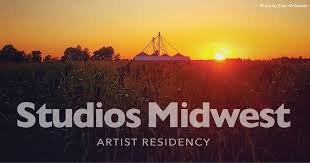 Studios Midwest Residency Program
Galesburg Civic Art Center
114 East Main Street
Galesburg, Illinois 61401
I'm thrilled to participate in the 2021 Studios Midwest Residency. Invited residents include: Bridget Conn, Jeffrey Repko, Andy Holliday, Gina Herrera & Whitney Sage.
STUDIOS MIDWEST is a visual arts residency program dedicated to the creative expression of the artists who participate. This short-term residency takes place every other summer for a period of 4 weeks in July and is hosted by the Galesburg Civic Art Center, a nonprofit organization, located in downtown Galesburg, Illinois.
RESIDENCY HISTORY
In 1986 a small but enthusiastic group from within the arts community invited artists to Galesburg for the summer to create art, Studios Midwest was born. It has since grown into an artist in residence program with a rich history and continues to foster a sense of community between the participating artists and local residents year after year. Studios Midwest has welcomed artists for over three decades!
Residency Schedule & Events:
July 1 – Artists Arrive
July 9, 6-8pm – Presentations and Open Studio
July 24, 5-7pm – Artists' Reception
July 24-25 – Resident Exhibition
For more information, visit: https://www.galesburgarts.org/studios-midwest-artist-residency